Posted on 27. Mar, 2014 by Jay in Industry News
Social media marketing is the buzzword nowadays in many business circles. The idea that by simply reaching out to people via the Internet businesses can do the equivalent of a full-fledged ad campaign is fascinating from a businessperson's standpoint – and this is mostly because of the savings involved. Admittedly, this perception of being an easy sell has been encouraged by many of the successful social media campaigns like Starbucks' "Tweet-a-coffee" campaign from last year.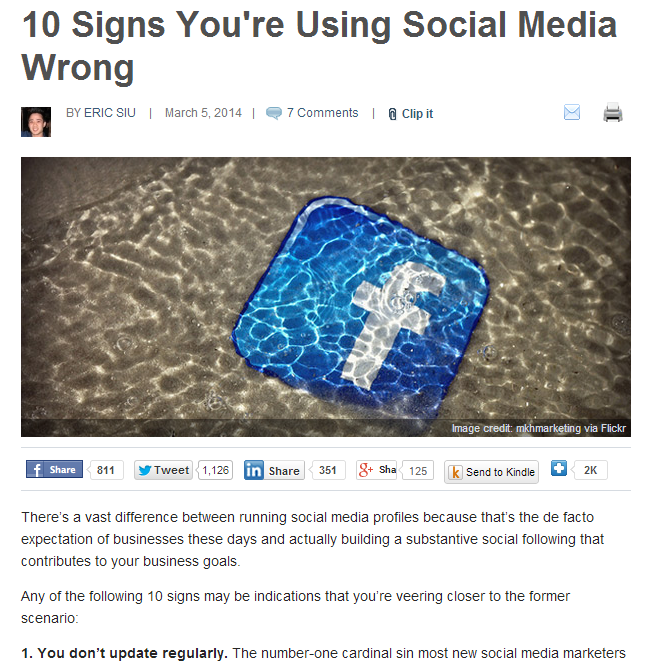 However, businesses cannot just go out and set up a blog somewhere on the World Wide Web and expect it to do all of the heavy lifting that an online marketing campaign is supposed to do. This mistaken belief often results in disappointment and sometimes PR disasters for the companies involved. Eric Siu, a San Francisco-based businessperson, recently posted an article in Entrepreneur.com about the missteps companies make in social media marketing. Here are some of his insights:
"1. You don't update regularly. The number-one cardinal sin most new social media marketers commit is not sticking to a regular posting schedule. If your followers see your profiles run dry for more than a few days (let alone a few weeks or months) at a time, they'll fall out of the habit of checking in with your business.

2. You aren't gaining followers. Acquiring followers isn't a perfect way to measure social media success. However, if your social following isn't growing as a result of your marketing efforts, you need to reevaluate your strategy. Try to come up with something new that will engage a larger number of people across wider demographics."
Eric continues in this vein, discussing the pitfalls that many businesses encounter as they try to navigate the social media maze. These mistakes best illustrate the need for professional help when trying social media marketing in Seattle or any place for that matter. Although it looks pretty easy, running a successful social media campaign is more than a handful for any marketing team.
A skilled Seattle social media consultant from established companies like OnPage1.net can help ease the birthing pains for any social media campaign. Local businesses can often benefit a lot from a well-managed campaign, helping them to grow in the current business environment. Make no mistake, good social media marketing can help a business out, but the qualifier is that it needs to be good.
(Source: 10 Signs You're Using Social Media Wrong, Entrepreneur, March, 5, 2014)