Posted on 09. Jul, 2014 by Jay in Industry News
Social media marketing for Seattle businesses can help boost a company's brand exposure, regardless of company type or size. Increased exposure inevitably piques the target market about the products and services a company offers, and interest prompts traffic. High website traffic more often than not, inescapably leads to high sales and profits. The key, experts recommend, is to choose the right platform from which to mount your campaigns.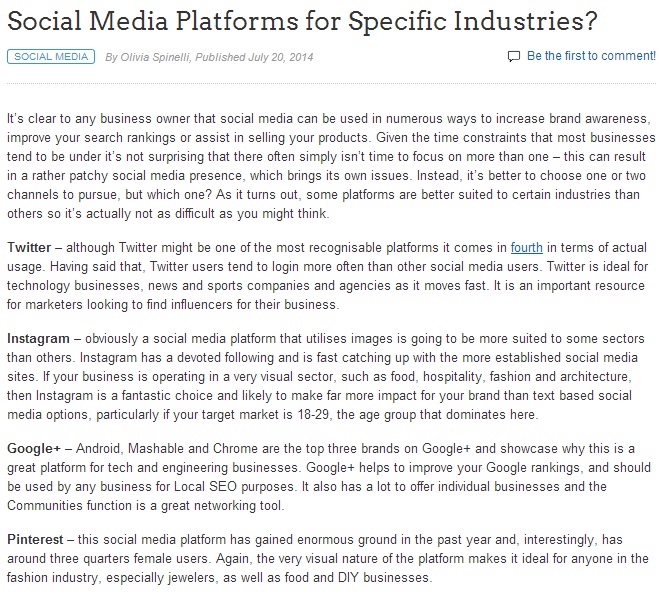 A business marketing project runs on a budget and focusing on one or two social media venues is better than spreading yourself thin on all of them. Olivia Spinelli, writing for Business2Community.com, illustrates how some platforms, such as Twitter and Instagram, for instance, are better for particular types of business:
Twitter – although Twitter might be one of the most recognisable platforms it comes in fourth in terms of actual usage. Having said that, Twitter users tend to login more often than other social media users. Twitter is ideal for technology businesses, news and sports companies and agencies as it moves fast. It is an important resource for marketers looking to find influencers for their business.

Instagram – obviously a social media platform that utilises images is going to be more suited to some sectors than others.
Instagram, according to Spinelli, would be a good fit for companies with a strong visual component; food and fashion sectors are just two examples. Business sites that focus on the younger generation also are drawn to instagram. Google+ attract demographics from the technology and engineering sectors, which, in fact, make them the prime target of any campaign on the social media platform. Other examples are Pinterest, which appeal to female users, and LinkedIn, the platform that many business professionals prefer. A Seattle social media consultant like OnPage1.net should be able to help entrepreneurs choose the right social media venue for their marketing campaigns.
Your promotional plan should be clear about its target audience, and having established that, make sure to keep your content relevant to its market audience. Whether you are a shoe company or a cleaning service, knowing exactly who you're selling to narrows down the type of information and images to use. Shoe aficionados would like information on fashionable shoes, where to get them, and how to take care of them. Those in need of a cleaning service will be looking for hygiene tips, or how to find a reliable cleaning crew. Refine your campaign appropriately so as to attract the right customers.
Track your progress. To know if your campaign is succeeding, you'll need to measure how far you've gone. This can be as simple as tracking comments on your Facebook page and how many people have become your fans. Free metric tools like Google Analytics or Clicky can track visitors to your site and help you get a better view of your progress.
(Source: Are You Marketing Your Small Business Effectively?, Business 2 Community, July 7, 2014)