Posted on 04. Jun, 2014 by Jay in Industry News
Social media has drastically changed the way people interact with one another. Businesses have seen the potentials of this technology to spread awareness about their products and services. Even the Catholic Church has conceded that they can no longer ignore how strong a medium social media is to reach millions of their flock worldwide, as reported by David Gibson of The Huffington Post: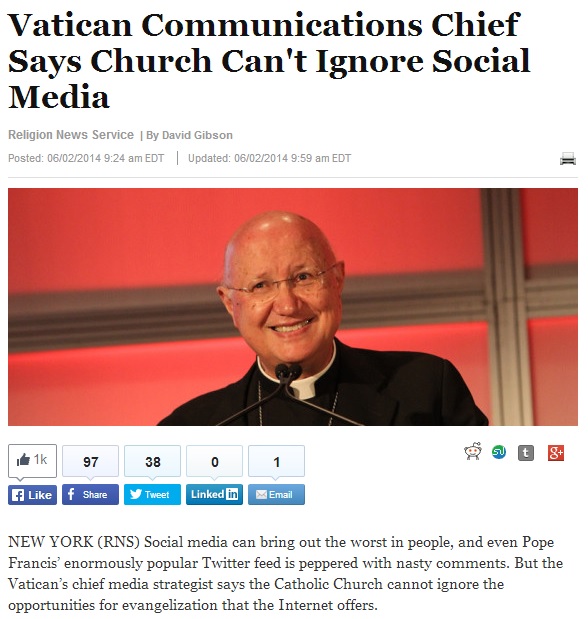 "In our church we are always fishing inside the aquarium," Archbishop Claudio Celli, head of the Pontifical Council for Social Communications, told a gathering of journalists on Thursday (May 22). "And we forget that most fish are outside the aquarium."

Unless the church engages social media, he said, "we will wind up talking to ourselves."

…Celli said there has been a notable shift in tone under Francis, which he attributes in part to the new pope's own eagerness to communicate by any means possible. He said that openness to media is a direct reflection of Francis' view of the church.
Businesses can learn from Archbishop Claudio Celli when it comes to social media marketing in Seattle and in other parts of the United States. They must realize that social networking is most effective when used to "talk" or engage people, rather than simply making announcements that are ultimately ignored.
A lot of social media campaigns have failed because they didn't consider that the public wants to be involved with companies and businesses online. Unlike advertisements in traditional media, social networking is designed to be more intimate as it was first designed to connect with family members and friends. Enterprises must therefore adopt a more conversational tone in their posts and keep status updates reader-friendly.
Companies must also avoid spamming to help integrate product and service value proposition into what people are truly interested in. Content must be provided in a way that it's entertaining and socializing, as these are the main reasons why users go to Facebook and Twitter. Do not oversell, and remember to always monitor social network accounts for inquiries and feedback, and be interactive and timely in engaging the public.
Many consumers also appreciate it when businesses take the time to personalize their responses and those that develop a unique way of connecting with fans and followers. Understanding people is the true nature of social media sites and establishments can certainly reap the benefits of their online presence when they know how to properly write a status update.
Seattle social media marketing consultants, such as OnPage1.net, know how to interact with users of Facebook, Twitter and other major social networking sites. Businesses can rely on them for guidance to become responsible and likeable online citizens who know how to really "talk" to people.
(Source: Vatican Communications Chief Says Church Can't Ignore Social Media, David Gibson, June 2, 2014)