Posted on 08. May, 2014 by Jay in Industry News
It's easy to locate an encrypted website. It has "https" in its URL instead of the usual "http."
This encryption finds use in websites that store account information, helping secure personal details from online threats. The downside of this is that it doesn't enjoy as much SEO success as its "http" counterpart. Encryption, for starters, can eat up more bandwidth and require more computation power to maintain.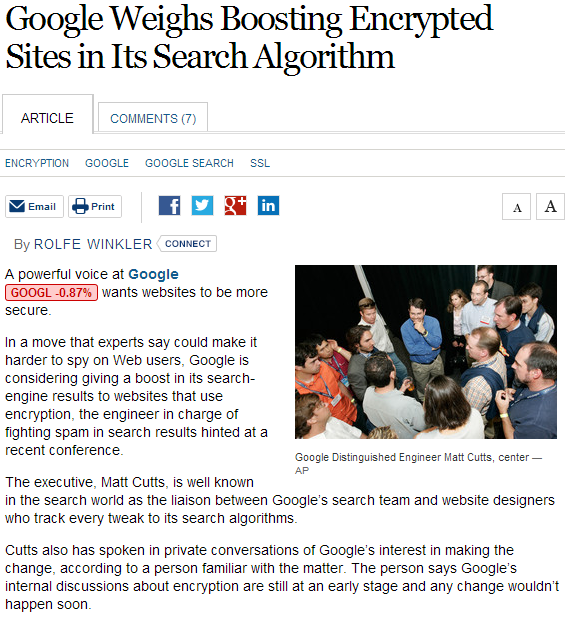 However, Matt Cutts, Google's resident search engine guru, recently hinted that the search engine is working on giving encrypted sites equal ranking rights. As a matter of fact, they've taken the first step by encrypting some of Google's services like Gmail and the search engine itself. Rolfe Winkler of the Wall Street Journal writes:
"Google is among many Internet companies that have moved to encrypt more of their services in recent years, including Gmail and Google Search. It stepped up those efforts last year, moving to encrypt traffic between its data centers after revelations that the NSA was exploiting vulnerabilities in Google's infrastructure."
No Ramifications
While encrypted sites may not enjoy as much SEO success (prior to Cutts' hint), it doesn't mean that Google penalizes them. Kirkland SEO experts like those from OnPage1.net have no reason to believe that the "https" in the URL brings trouble to a website's ranking. Websites with "http" and "https" versions are considered two separate sites.
However, this means they're prone to duplicating content penalties. Wherever the spiders crawled first will be treated as the original site, making the other one "spam."
One solution is to use a 301 redirect to reroute incoming traffic to one site to the other site. The procedure can work either way: "https" to "http" and vice-versa. In case the redirect doesn't work for the website, you can choose pages to be crawled by putting a Robots.txt file on those pages. That way, you can steer crawling away from duplicate content.
Not For All
Right now, there's no rush for websites to encrypt their pages. For an "https" website to load seamlessly, the setup must be able to support the increased load. The system has to encrypt and decrypt everything from text to animation, which can make the viewing experience slower. As SEO basics goes, loading speed is critical in website traffic.
Cutts may have hinted the plan to reward "https" websites, but Google hasn't made any major strides in the effort as of this writing. They still have their hands full with OpenSSL's notorious bug that makes encryption not so encrypted at all. For now, get a Bellevue SEO consulting firm to discuss future plans for your website structure.
(Source: "Google Weighs Boosting Encrypted Sites in Its Search Algorithm," The Wall Street Journal, April 14, 2014)